About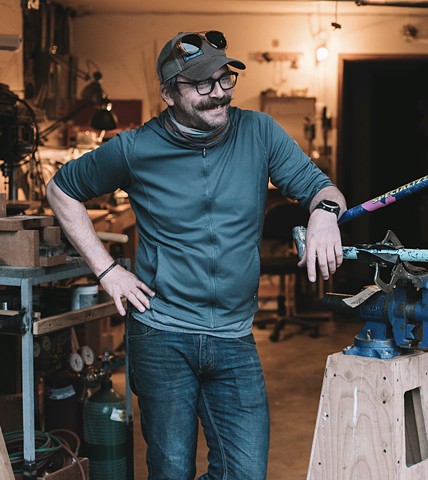 My name is Christopher Gerber, and I am a maker. Born and raised in the Midwest (WI) and now living for 12+ years in the PNW, I strive to merge my passions of exploring all types of wildspaces, and reflecting on those adventures by working with materials, mainly metal.
Some friends like to say I'm always futz'n, while I usually say I'm tinkering around. At the end of the day, however, it really comes down to the fact that I love working with my hands, and I'm quite curious and playful by nature.
Know that when you buy a piece of mine, the design of the piece, the crafting of materials, and even the packaging and shipping, is all done by yours truly in my tiny shop in the North end of Seattle, WA. On occasion, I work with local industry to help expedite some of the early stages of creation (I'll note this in product listings), but I do so infrequently, and with a certain thoughtfulness as to what that outsourcing means.
Because these pieces are made by hand, each item will have its own character. Slight variations in finish, color, and texture may exist, and should be expected. Regular wear will impart an entirely new character to these pieces, and that's part of the process that I love - that the creation is only part of the story. It's up to you, the wearer, to write the next chapter!
Please don't hesitate to ask questions if you have them, you can use the "Contact" form to do so.
-Chris